The ICON Dashboard is a blockchain explorer made for regular people. It's designed to improve understanding and encourage exploration of the ecosystem, and eventually become the main hub for people using ICON.
Phase one of the ICON Dashboard will include the ability to search and view details about transactions, assets, apps, wallets, smart contracts, and governance on the ICON blockchain. It will also include the ability to export your transaction history.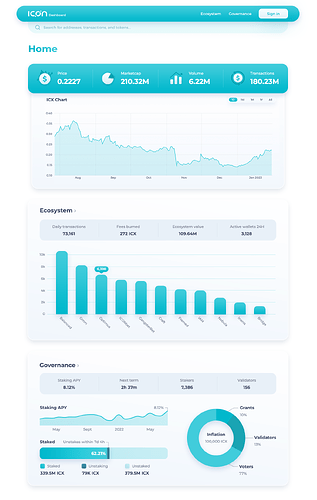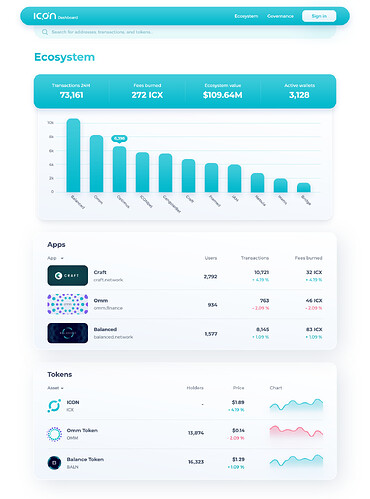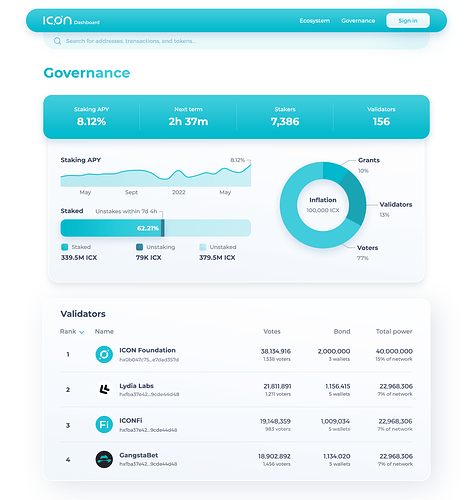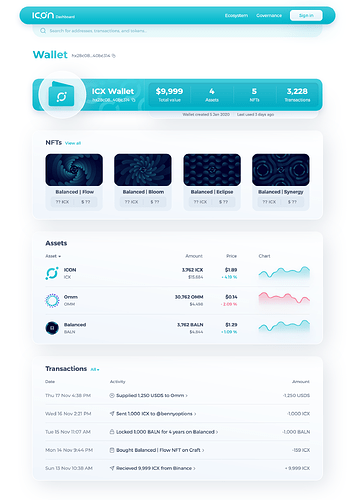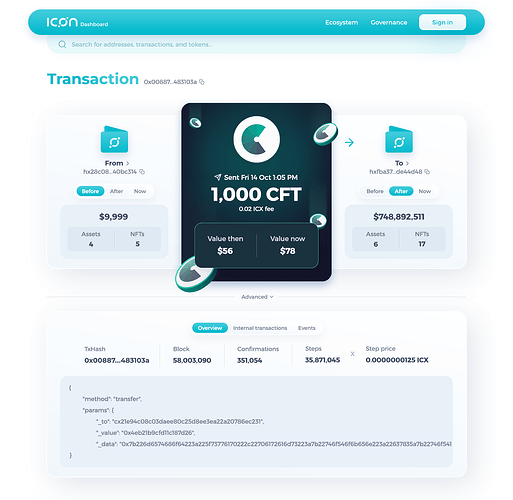 ---
Why is it necessary?
ICON's sales pitch revolves around interoperability, but that's no reason to put all our eggs in one basket. We should give people as many reasons as possible to use the ICON ecosystem. For our team, that means innovating with products and websites that are appealing and accessible to a wide audience.
People will always prefer simple products over more complex ones. Good design over average. The majority care more about ease of use than security or decentralisation, which you can see in the number of retail investors affected by the CEX fallout in 2022.
Blockchain is a complex industry, so user experience has naturally become a key selling point. After the collapse of LUNA/UST, people lamented the lack of UX-focused blockchains to move to. ICON has high-quality apps, but it didn't go far enough to be a serious contender in that conversation. We wanted to change that.
So what would it take for ICON to be considered a leader in UX?
To users, the interface is the product, so the quality of a blockchain is implied by the content they see and the tools they interact with. Our goal was to optimise these touchpoints to make ICON appear like an integrated, well-put-together ecosystem.
First, ICON needed a sales pitch/onboarding funnel and a strong, consistent brand. We addressed that a few months ago with whyicx.com.
That brings us to this proposal, for a tool every user is likely to find themselves on at least once: the blockchain explorer.
Whether it's once a year at tax time or a more regular activity, the majority of crypto users will need to view the details of a transaction through a blockchain tracker/explorer.
Blockchain explorers provide a core service, yet they're universally bad. Created for developers first, the content is presented in a way that's difficult for most people to understand. And no one leverages their potential as an onboarding and exploration tool.
But people are waking up to the fact that something needs to change:
People don't enjoy using trackers like this: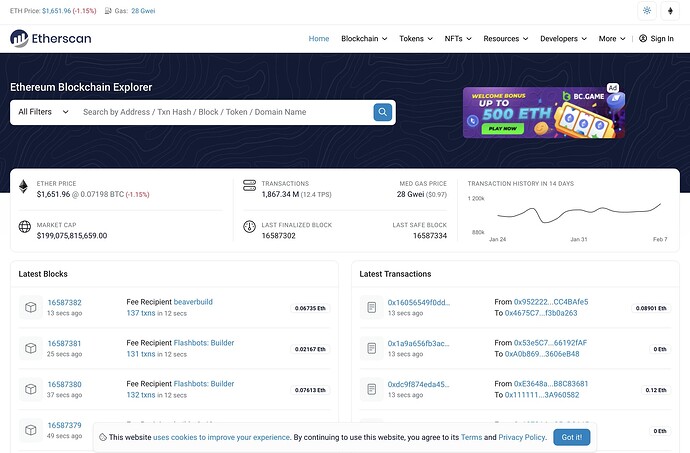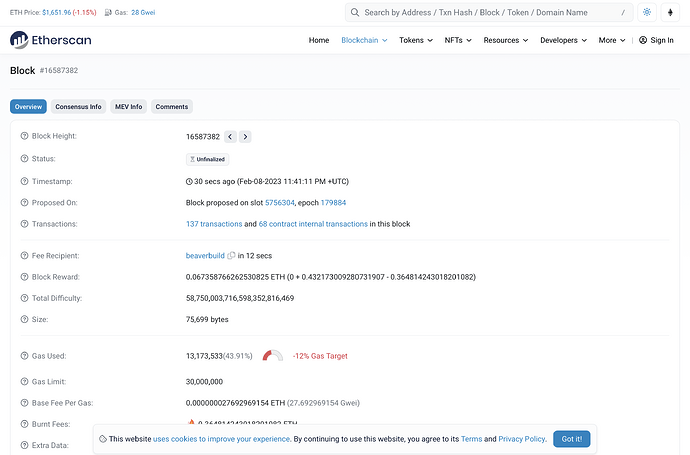 And they're willing to pay for something better: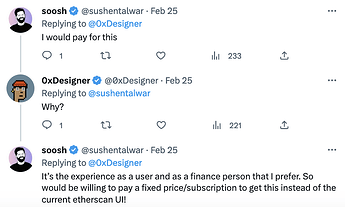 Like this: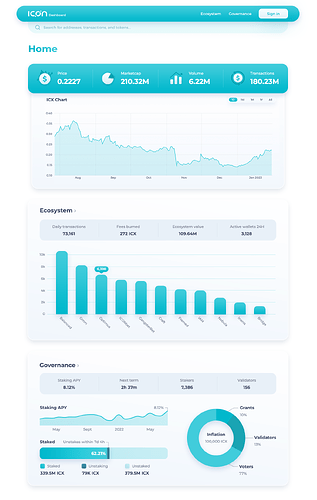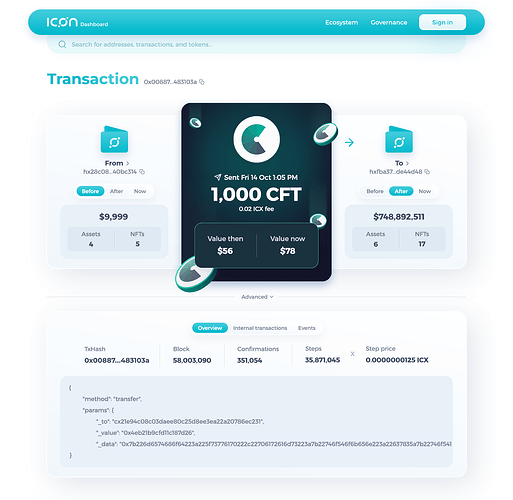 The ICON Dashboard is not another Etherscan clone. It's a unique product that aims to help regular people make sense of the most important blockchain metrics, and explore the ecosystem with ease. It will be free to use and always ad-free, with a multitude of ways to support itself through paid features in the future.
How will it work as an exploration and conversion tool?
Imagine you help someone get started with ICON. You send them some ICX and share the details via a link to the ICON Dashboard. They'll see information about the transaction that's easy to understand at a glance, and will have the opportunity to learn more about their wallet, the asset they received, the app it's tied to (if any), and where they can use it. All while being exposed to the ICON brand in a high-quality interface.
Many investors use trackers to assess the health of a blockchain, so the Home page serves as a "pulse check" for ICON. It provides meaningful data about network activities, and is designed to encourage further exploration of everything ICON has to offer.
And while not related to conversions, an understandable tracker would have been invaluable for tracking the Omm hacker's movements after the recent exploit.
---
What's it going to cost?
$60,000 over 6 months.
| Source | Amount | Notes |
| --- | --- | --- |
| UI/UX design | USD 25,000 | 1 designer at $10,000/month for 2.5 months |
| Outstanding design & content work | USD 20,000 | 1 designer and 1 writer at $5,000/month for 2 months |
| Front-end development | USD 30,000 | 1 developer at $5,000/month x 6 months |
| Back-end development | USD 5,000 | Back-end services provided by sudoblock, plus 12 months of hosting |
| Hosting & maintenance costs | USD 5,000 | 1 year of app hosting, and 1-2 months post-launch maintenance & enhancements |
The cost of the UI/UX design work will be absorbed by our team, so this proposal will cover the remaining design, development, and content efforts contributed by PARROT9 to build phase one of the ICON Dashboard:
Home page
Ecosystem page
Governance page
Transaction details page
Wallet and smart contract pages
App and token pages
To assess the viability of the design, we've already built an interactive prototype similar to our demos for Balanced and Omm. The details are still being refined and have already advanced beyond the mockups shown here, so if this proposal is approved, we'll share the prototype in our first progress update.
The frontend and ICON tracker API will be sufficient to support most of the data for phase one, but some backend work will be required. We've talked this over with sudoblock, and will allocate $5,000 towards backend support and 12 months of infrastructure costs. The new data points will support the ecosystem chart, many 24 hour stats, additional governance info, and historical token prices, and will be made available for anyone to leverage, including Balanced.
We'll also spend some time talking about our design process in public to get more eyes on ICON. See this in action with our content about whyicx.com and the transaction details page.
---
How will it become self-sustainable?
The ICON Dashboard won't use the CPS to fund it forever.
We'll continue to evaluate which path makes the most sense as we build out phase one. After completing the work outlined in this proposal, we'll either submit a second proposal to support phase two, which includes more charts, wallet integration, enhanced NFT support, and monetisation strategies. Or we'll apply for the Interoperability Incentive Fund and other grants to bring our dashboard to other blockchains, under the parent name "ChainDash".
You may look at this proposal and think we're out of our minds: a design-led explorer doesn't scale for the constantly growing nature of blockchain. But, as notable business leaders would say, "Do things that don't scale."
The ICON ecosystem is tight-knit and new products aren't released often, so we'll provide custom design and content for every token and app. For other blockchains, we'd start by supporting the top 20% of assets/apps, and establish smart defaults for everything else. And in the nature of open-source, it will be set up so that people can help us fill in the gaps.
---
About the team
The ICON Dashboard is brought to you by PARROT9, the design team behind Balanced, Omm, and WhyICX, and a top 10 validator for ICON.
This proposal is being sponsored by Protokol7.