Wonderland:
We explore a vast Wonderland metaverse where Alice tries to steal $MUSHROOM from an army of card soldiers who work hard to gather them daily. Alice needs a regular supply of $MUSHROOM to keep her appetite full and makes a deal with the Queen of Hearts and the card soldiers. The Queen of Hearts protects her soldiers and keeps Alice away from stealing their supplies. Wonderland is a journey full of rewards, surprises & mysteries for the ultimate goal of collecting $MUSHROOM.
We propose to build a metaverse game with deep interactions between standard token protocols like ERC-20 & ERC-721 in the new ICE blockchain. The game will be one-of-a-kind and will provide a real kickstart to the NFT ecosystem in ICE. Every interaction will be on-chain including NFTs stealing other NFTs and $MUSHROOM through their character profile & probabilities.
Our inspiration for Wonderland is the Wolf game, which took the NFT world by storm. The Wolf game has become one of the most popular games in the Ethereum blockchain. Wonderland will become an exemplary game showing the possibilities of NFTs, Defi and on-chain probabilities in the new ICE blockchain. The game will be built on top of complicated staking & bonding mechnisms with rewards.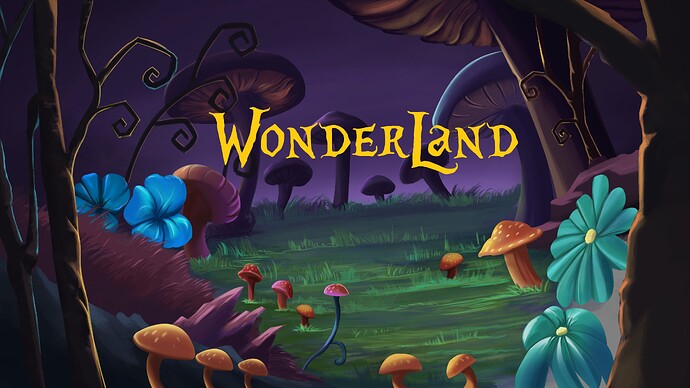 NFTs & Gaming:
In 2020, the gaming industry was a $160 billion industry with an increase of 9.3% from the previous year. It was forecasted in 2016 that the industry might be $90 billion but there was a huge difference of 77%. The current estimate for 2025 is $265 billion but we can assume that the industry is going to grow at a similar pace. According to Blockchain Game Alliance (BGA), over 804k unique active users connected to blockchain-based games in July 2021. We can clearly see that the blockchain gaming industry is at an early stage but the segment is growing it's user network at an exponential rate.
The market for Non-Fungible Tokens (NFTs) also surged to new highs in the second quarter of 2021 with $2.5 billion in sales this year, up from $13.7 million in the first half of 2020. With such tremendous growth in NFTs & Gaming, it is the right time for us to build a top-class blockchain-powered 3D board game in the ICON network.
In 2021, we saw some pioneering work in the NFT space that includes Hashmask, BYAC, Loot & the Wolf Game. All of them were the first in their respective area to bring something unique to the NFT ecosystem. It shows that there is an immense possibility to create a community around unique NFT.
Gameplay:
The game will be played completely on-chain with daily staking rewards for $MUSHROOM. Every card soldier that is staked will earn tokens by the second, which can be claimed by the owner. Alice, who has a great appetite for the $MUSHROOM token, can steal and take away the tokens earned by the soldiers. The game centers around battling for the token in weird and mysterious ways that have not been done in any NFT game before. It will have complicated staking and bonding mechanisms under the hood.
Why ICE?
The ICON community has been patiently and eagerly waiting for the new ICE blockchain. We really want to make it special by launching Wonderland metaverse as a flagship NFT project in the ICE blockchain. This will raise the bar of the NFTs in the blockchain, which can attract new people to the ecosystem. Along with that, we want to integrate BTP to transfer the assets from/to other chains.
General FAQs:
1. Will there be other tokens than $MUSHROOM?
$MUSHROOM will be the primary token that every character earns, steals, and/or battles for. But since the journey will be mysterious, there will be some rare gems or tokens that will be earned.
2. Why ICE blockchain?
We intend to do this in the ICE blockchain because of the BTP bridge to other EVM-compatible chains. If everything works out, we want to do a dual-mint in collaboration with another compatible chain during launch. This could be huge marketing for ICE and bring in people from other ecosystems to the ICE blockchain.
3. Can you tell us more about the game?
Yes, but slowly. Since the game is intended to be full of surprises, we will not reveal everything until the launch. The whitepaper & tokenomics will be released after a month whereas characters might or might not be released before the game.
4. What is unique about Wonderland?
We intend to be one of the first NFT + Defi metaverse games with a novel tokenomics & intriguing on-chain gameplay. Our focus is also promoting the ICE blockchain & it's NFT ecosystem.
Deliverables:
We plan to launch a complete, playable game after ICE blockchain launches (~second week). Since the blockchain will be new, we will have our own marketplace on the website along with a complete flow to mint, claim, stake & unstake their NFTs. There will also be a 2D map (Wonderland metaverse) where characters can go and stake their NFTs.
Project Milestones:
First Milestone (1 month):
Start development of the website (content, design & development)
Start development of smart contracts (Solidity)
Start graphics and art
Second Milestone (1 month):
Complete website (content, design & development)
Launch website
Continue development of smart contracts (Solidity)
Continue graphics & art (characters)
Third Milestone (1 month):
Polish the website & ready for beta launch with detailed content
Finish smart contract development
Integration & testing
Finalize art & graphics
Start marketing & outreach
Fourth Milestone (1 month):
Finalize development, integration & testing
Marketing & outreach
Pre-sale & full release
Future Enhancements:
There are so many possibilities in Wonderland after launch esp. creating a thrilling 2D metaverse where Alice, Queen of Hearts & soldiers can go through journeys for $MUSHROOM, gems, gold & stars. We definitely want to integrate BTP to implement a cross-chain transfer of assets in a different chain. We will regularly update the community with new updates through our social channels. In addition, we will also be taking input from the community for possible future projects.
Funding Amount Requested:
We are requesting funding for the initial development, design, artwork, and marketing. The funds will be used to hire developers to write the smart contracts, design & development of the website, commission artists for their artwork, marketing the project on various social media channels, and other miscellaneous expenses.
2 Solidity Developers @ $2500 per month = $5000 x 4 = $20,000
1 Senior Character Designer @ $2500 per month = $2500 x 4 = $10,000
1 Character Designer @ $1500 per month = $1500 x 4 = $6,000
1 Designer @ $1500 per month for 2 months = $1500 x 2 = $3,000
1 Senior Web Developer @ $2500 per month = $2500 x 4 = $10,000
1 Project Manager (part-time) @ $600 per month = $600 x 4 = $2,400
Total: $51,400
Team:
The project is built by Techflow.space team in collaboration with the ICONOsphere & GangstaBet team. Our team has built several projects in the ICON ecosystem in collaboration with ICONOsphere, including but not limited to:
Core developers of Balanced Network, OMM Finance, Bridge.
Supported building GangstaBet NFT Collectible.
Dice Roll Game: Developed ICX DiceRoll app – See it on GitLab here, play it here
Contributed to the development of Balanced Network, OMM, Bridge & ODI projects.
Testnet Faucet: ICX Testnet Faucet – Hosted by us and still in use by the developer community.- iBriz ICONOsphere TESTNET Faucet
Running ICON Testnet Node
Payment Gateway: Developed payment gateways for clients to receive their IRC-2 tokens
NonFungible Token(NFT): Demonstration of a working non-fungible token (IDOL Token) and dApp development using tbears before the Testnet launch at the ICX Station SF Launchpad Kickoff event (9/6/2018)
ICON Contribution Proposal System
Open Dev ICON contract library
Since our team has experience in the ICON blockchain, we feel extremely confident in the ability to build and deliver this project successfully in the given time. The core team has experience building NFT projects in ICON, Ethereum & Polygon blockchain, and we would like to take that to the next level with Wonderland.
Follow us in Telegram to stay updated: Telegram: Contact @wonderlandmetaverse