Report Name: Tipicon On Twitter #2
Reporting Period: December 15, 2020 to January 13, 2021
Report Description: This report will go through our progress in the reporting period.
Progress in the Reporting Period:
As planned before, we completed our design and integrated the databases and Telegram side. Users now have a Twitter bot that they can use in order to interact with the ICON ecosystem. Currently, users can send ICX to a Twitter user, create a promotion and reward users that tweet with a certain hashtag/reply and have a wallet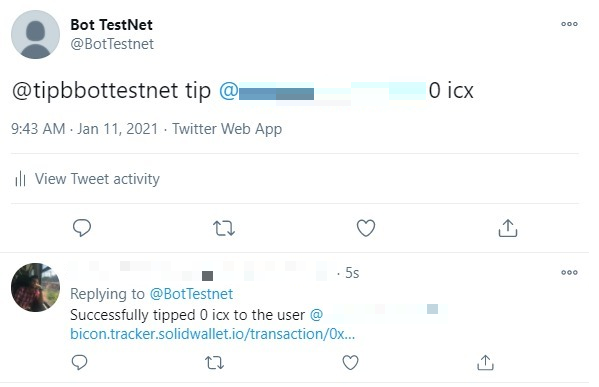 like our Tipicon side on the DM interface of Twitter. Following images are an example of our current design, yet commands might be subject to change, after public testing.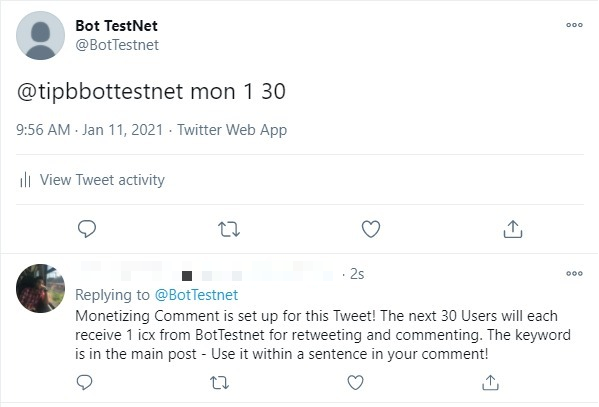 "tip" command is used to tip a Twitter user and "mon" command is used to create a promotion. Naming of these methods are subject to change, yet they are shared here for clarity.
Project Completion Percentage:
We believe that we are 90% complete with our design, we just need to hold public testing in order to get feedback and properly test our system. After tweaks and modifications during the testing phase, which should not be much drastic, we will be completed with the project.
Remaining Time to Completion:
We believe the remaining 1 month is enough to hold public testing and should give us a polished product.
Expected Results for the Next Period:
Next period will be our public testing, which will result in tweaks and improvements. After that, Tipicon on Twitter is ready to launch.