Report Name: Tipicon dApp Integration Progress Report #1
Reporting Period: July 12, 2020 to July 22, 2020
Report Description: This report will go through KPIs and milestones of Tipicon and Piconbello's progress in the reporting period.
Tipicon KPIs:
We believe KPIs are a great way to evaluate performance, hence we have been tracking them and setting some milestones to Tipicon as it continues to develop. Our KPIs are mainly time based and milestones are mainly number based. Here some of the numbers that we have currently and we plan to have in the long run.
KPI #1: First week of Tipicon Release
383 distinct users
675 transactions
6,683 ICX volume
0.68 ICX spent on transaction fees
KPI #2: First week of Tipicon Iconbet Integration
122,624 transactions
1,528,647 ICX volume
38% of Iconbet's transactions and 30% of the volume
7 distinct dApp users, without tip/airdrop users
Milestone #1: 500,000 transactions
Reached at around June 26, shared here.
KPI #3: Three weeks interval between Tipicon Iconbet Integration's first week & first month
802,292 transactions
5,389,790 volume
Around 30% of Iconbet's transactions and 40% of the volume
48 distinct dApp users, without tip/airdrop user
KPI #2 and KPI #3 were taken in order to evaluate the performance during two distinct promotions in that timeframe, conducted with ICONBet Community P-Rep Team.
KPI #4: Daily Average Transactions
Around 35,000 transactions
Expected Milestone #1: 2,000,000 transactions
Expected Milestone #2: 100 total daily ticket subscription orders for DAOlottery
Progress in Reporting Period:
As Piconbello, we always want to deliver quality products. To ensure this, we have a cycle that we try to follow, which consists of understanding the needs and brainstorming about how these needs can be fulfilled.
As you know, our Grant proposal consisted of integrating 4 different dApps, without any dedicated order. This was done purposely, since our philosophy starts by understanding the customer, in this case, the community. Hence, before we started working on first dApp integration in Grant proposal's context, we decided to ask the community via a poll. Since DAOlevels and FutureICX was not released at that time, our options were DAOdice and DAOlottery only. We saw a fierce competition between two options and the result can be seen here. This poll concluded our first step, understanding the desires.
Then came the next step, brainstorming and developing around concepts that increase users' experiences. Overall, we observe that people do not have any problems while using Tipicon in general, they see it as easy to set up and utilize. Hence, we decided not to mess with the working formula and went forward with a similar concept for UI compared to other dApps we have integrated so far. As DAOlottery is part of Iconbet, its respective section will be under the Iconbet section. Below, you will find screenshots of the sample UI that we worked on, with a working call on the SCORE of DAOlottery on testnet, which was put to test if there is something we haven't foreseen.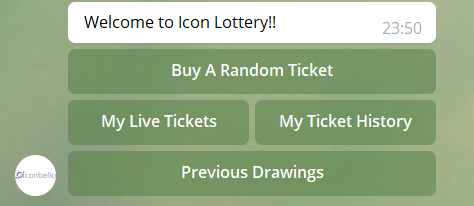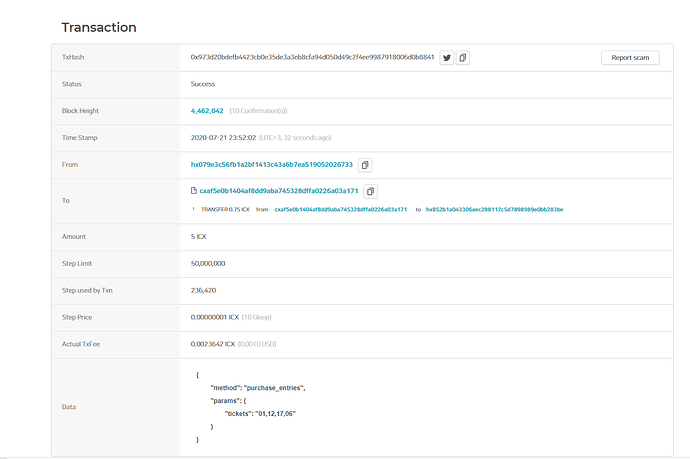 We continued with understanding the dApp itself and how it can be utilized with different points of view. We have decided upon some design flows which will be developed later on. Overall design flow that we believe on can be seen from the following flow chart diagram below.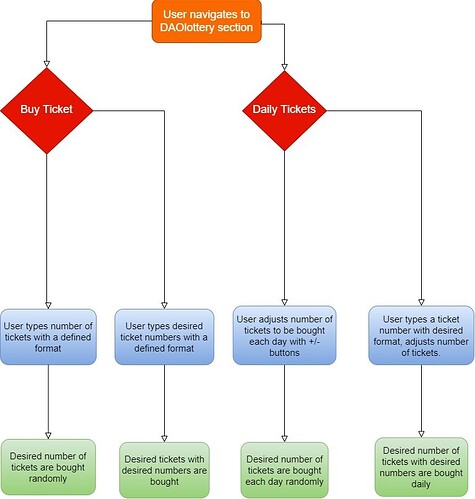 Overall, our idea was to complete these initial steps and have a solid ground on how to approach the design and shape the product accordingly. Rest of the development consists of work on our side, implementing according to design flow and designing the UI to improve user experience for this dApp integration.
Project Completion Percentage:
Although it might be misleading, we believe each dApp integration has an equal percentage. We believe we have 40% completion for this dApp, which makes 10% from overall 100.
Remaining Time to Completion:
We expect to complete the full design in 10 days or so for DAOlottery, including backend and UI. After some public and internal testing, we should be ready for mainnet around 15 days from today for this dApp. After that, we plan to stick with our schedule and carry the same procedures for next dApp.
Expected Results for the Next Period:
For the next period, if we do not encounter any problems, we should be ready to go on the mainnet for the DAOlottery. Since our philosophy is to understand the demand first, we plan to conduct a poll again and start working on the winner again. We expect 50% of the next dApp to be finished for the next period as well.