# Project Category:
Community activities:
Ambassador activities, public relations, meetups, educational content and activities, and web community development and management.
Project Description:
Team White hill requests funding for community and business outreach in subcontinent Asia and global (about 2+ billion population; Hindi, Urdu, Punjabi speaking globally). We are ICONists and with support from our sponsor ICON Sweden (who are with ICON since 2017 as an early ICO Investor), we want to set up the path for the mass market adoption of ICON ecosystem. We think that in order to ensure mass market adoption, we need to involve common people from all segments of the society; including but not limited to: Schools, Universities, General Public, private Enterprises, and so on.
We also want to contribute in marketing and social media activities (including numerous videos and posts) for the promotion of ICON. Our team is located in Pakistan and already has active interaction with community through social media networking e.g YouTube, facebook and instagram on daily basis.
Youtube: (https://www.youtube.com/channe/aligillani) Our Team make short series on social responsibilities, conduct interviews with experts from different elements and community.
ICON Sweden have also experience in video making on blockchain related topics. And we will work with them wherever needed to focus on technical aspects about ICON ecosystem and related DApps. Link: https://www.youtube.com/swedencornet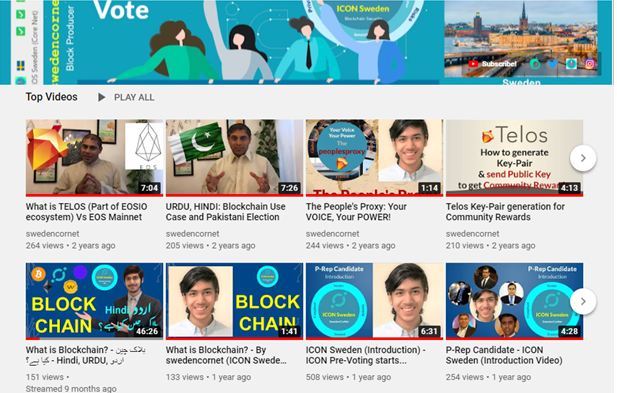 Facebook: Live streaming for our online stores (Cloths and Jewelry)
Note that we would like to accept ICX as currency and integrate it in our online stores (Cloths and Jewelry) to sell our products globally. We will also produce ICON branded T-Shirts and other products that anyone can order and buy from us globally using ICX tokens.
Instagram: Integrating our audiences from YouTube and facebook to a single platform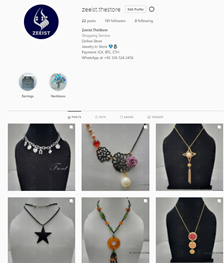 Before submitting this proposal our team prepared an online survey " Indo Pak community outreach survey ", to get general idea about the awareness of Crypto.
About 36% people knows about crypto currency, amongst these 8% are active investors in crypto(BTC and ETH) remaining 28% don't know about available exchanges or platforms to trade in Crypto. out of this 36% , Bitcoin is most known to the community. as per shown by following graph:
64% don't know about crypto. Only mode of payment in subcontinent is traditional paper currency.
Our main focus will be on 92% people from all over sub-continent, to educate about crypto currency and its efficiency and easy to use approach. We are planning to use our social media platforms to bring awareness, as we have face to face interaction with people on daily basis for our YouTube activities and to utilize our live sessions on facebook for crypto awareness and marketing ICON(ICX).
Also we will arrange meet-ups in different cities, and institutions. For this we are planning to visit colleges and universities, with students especially from IT departments. Involve them in research and development phases of our project. Sponsor their Final Year Projects in an attempt to create a community well aware of our goals. Distribute merchandise with ICON(ICX) logos and conduct question answer session with community.
Our project will deliver:
Creation of ICON community in subcontinent Asia
Promotion of ICON(ICX) Crypto Currency
Accept ICX as currency and integrate it in our online stores (Cloths and Jewelry) to sell our products globally.
Research and Development for spread of ICON in Subcontinent Asia
Project duration : 5 Months
Project Milestones
Regular meet ups with university and college students, including an info lecture from P-rep (ICON Sweden)
Regular interaction with community for quizzes, games and lucky draws
Increasing followers on YouTube, facebook and instagrm by posting our achievements.
Building community by educating people about ICX, trading.
Integrating business with ICX for payments
Printing and distributing ICON merchandise and literature
Hire social media influencers and celebrities to promote ICON.
Funding Amount Requested :
Per month: 4000$
Total for 5 months: 20,000 $
Official Team Name:
White Hill
Team contact information :
E-mail: bussinesswithaligillani@gmail.com
YouTube: https://www.youtube.com/channe/aligillani
Instagram: https://www.instagram.com/aligillaniofficial/