ICX Comics: Report #1

Report Name
ICX Comics: Report #1
Reporting Period
25.02.2020 - 26.03.2020
Report Description
We happy to announce that our Milestone #1 is done successfully!
As we promise 1 month ago we create 2 new comics, have a look:
Comic #2 - https://twitter.com/ICXcomics/status/1238040238443954176
Comic #3 - https://twitter.com/ICXcomics/status/1242578266990489603
We have made and published our site with all the latest news and comics. The site is fully up-to-date with clear UI and UX. Our website is fully adaptive for Laptop, Tablet, Mobile devices.
Our web site - https://icxcomics.com/
In addition, we constantly support our social networks:
https://twitter.com/ICXcomics
https://www.reddit.com/user/ICXcomics/


In addition to comics, we have constantly created various posts to keep attention on the ICON ecosystem, for example:
Daily stats:



Socials posts:

Games:

Thanks to Fidel, from Espanicon.team our comics have been translated into Spanish
We are currently working to get approve from Twitter for our advertising campaigns.
Project Completion Percentage
30%
Remaining Time to Completion
10 weeks
Expected Results for the Next Period
We will develop several comics explaining issues like:
Comic#3 - Inside ICON. Consensus, SCORE, BSI
Comic#4 - All that you were afraid to ask about ICON
Comic#5 - Build Dapps on ICON Blockchain
Materials Proving Progress on the Project
Our website - https://icxcomics.com
Comic #1 - https://twitter.com/ICXcomics/status/1224636264118394881
Comic #2 - https://twitter.com/ICXcomics/status/1238040238443954176
Comic #3 - https://twitter.com/ICXcomics/status/1242578266990489603
Review of each KPI (Key Performance Indicator) or specific goal/milestone
Most of the KPI can be seen above
Look at statistics on our main social network - Twitter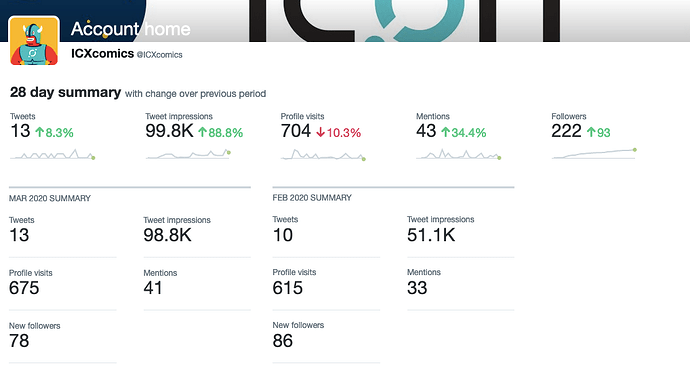 Thank you for reading and supporting us!