Project title
Project Nebula (projectnebula.app)
Project category
Development (NFT collectible game)
Project duration
2.5 months covered by grant
We intend to develop Project Nebula indefinitely, but we are applying for the ICON Foundation's grant funding to help us with the initial months of development. Please see Project milestones chapter for additional details.
Project description
Project Nebula is a space themed collectible strategy game on the ICON blockchain. It will be released as a cross-platform browser game to ensure accessibility to the widest possible audience. The individual unique planets in Project Nebula will be non-fungible tokens (NFTs), which players can claim inside the game and trade or sell if they wish to do so. There will be several rarity categories for the planets - each planet will have unique design and attributes that will determine how useful and powerful they will be in the game. The game will also include elements from the "4X" genre such as exploration, research and resource management.
Planet detail view 1
Planet detail view 2
Although planets are at the centre of Project Nebula, exploration of the galaxy plays a significant role as well - in order to find new and exciting planets and advance in the game the players will have to explore the expanding universe of Project Nebula.
Exploration view
In most of the cases, planets will be found inside solar systems that can host up to dozens of planets.
Solar system view
Project Nebula will also include an in-game marketplace for trading the NFTs.
Marketplace view
Why ICON community should be interested?
The market cap of the NFT ecosystem totaled $210M in 2019, with a market cap forecast of $315M in 2020.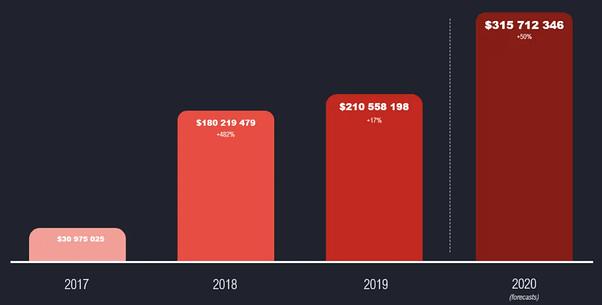 Transaction volume for NFTs that are strictly collectibles have dropped in 2019, whereas there has been a significant jump in the popularity of other game genres. Project Nebula falls into the Strategy category, whose transaction volume has more than doubled (+177%) from the previous year.
Source: NFT Yearly Report 2019
We believe that creating Project Nebula on the ICON blockchain will have a significant impact on the amount of transactions and active wallets on ICON. We also believe that launching a game will potentially spread ICON to vast amounts of people, especially to all those who are not actively involved in cryptocurrencies at all.
Should this project be successful, we will have established ICON as a serious competitor to other blockchain platforms regarding game development.
We have publicly shared information about Project Nebula for just a few weeks now and we are very grateful to have received a lot of positive feedback and support from the ICON community.
Project milestones
We have listed here the most important milestones of the whole Project Nebula. We are applying for the grant regarding only the first three.
Finalize planet-related game mechanics and content
Planet types and rarity
Planet attributes
Resource management
Deliverable: Interactive planet view completed (link shared in progress report)
This step is crucial to this project as the planets are a fundamental part of the game and they will be placed onto the blockchain, and thus can not be altered in later stages
Release first planets on Testnet
Implement automated planet generation
NFT smart contract and related infrastructure
Deliverable: First planets released on Testnet
Launch in-game marketplace for NFTs
Integration with ICON wallet (authentication)
Web app Marketplace view with filtering functionality
Buying planets (NFT ownership is transferred) + auction contract
Placing sell orders on secondary market
Deliverable: First planets available on the in-game marketplace (incl. secondary market)
Beta release of Project Nebula

Full game launch

Post-production
As far as we know, we are the only team working on building a (full) game on the ICON blockchain. That said, we sincerely hope that many others will follow, as we see ICON network as a great alternative to existing blockchain game ecosystems.
Funding amount requested
ICON Forge is applying for $22 800. This amount is planned only for milestones 1-3 to cover our expenses until we launch the planet presale and open the NFT marketplace.
There are two members in the ICON Forge team who have already been working full-time for two months on Project Nebula. Additionally, ICON Forge has started collaboration with a UI/UX designer and a sound engineer. We are self-funded and have so far invested approximately $15 000 into this project. Although we can cover our passive costs from the delegation rewards we receive (incl. node operation, game assets, servers, etc.), we need additional resources to continue working on Project Nebula full time.
2.5 (months) * 2 * 3500 (salary) * 1.12 (EUR->USD) = $19 600
$3200 (UI/UX design)
Total funding amount applied for: $22 800
Additional information about the milestones 1-3 are provided in the following file

https://docs.google.com/spreadsheets/d/130ExJWccZ3f2TkpB8OSXrWseuiOr-FxIEmwO3veQIlw/edit?usp=sharing
Team
Kaarel Sööt is a full-stack developer following the ICON project since its ICO. His latest challenge was building a crypto exchange Change Invest.
LinkedIn - https://www.linkedin.com/in/kaarel-soot/
Holger Sundja has game design experience and a business background from the biggest passenger transportation company in the Baltics, Lux Express.
LinkedIn - https://www.linkedin.com/in/holgersundja/
ICON Forge acknowledges that there are always risks related to funding a game development in its early stages, which is why we have deliberately decided to narrow the grant usage period down to the first 3 steps, which will in our eyes benefit the ICON community even if the final game should not prove very successful - we will have released the first NFTs on ICON and created a marketplace for trading them. In other words, there is a risk that Project Nebula will not be successful (although considering the feedback and interest we have already seen and received - we doubt that this will be the case), but there is no risk for the ICON community. We truly hope that what we are doing will inspire new teams and developers to start bringing more and more cool games to ICON blockchain.
Official Team Name
ICON Forge
Contact
General - hello@iconforge.io
Twitter: https://twitter.com/ICONForge
Telegram: https://t.me/iconforge
Holger - holger@iconforge.io
Kaarel - kaarel@iconforge.io
Public Address
hx70f9a54bccc5295e4adecbe98d9a291bef4ff9a9