Grant Application
Title:
ICONPool UX revamp, liquidity mining, analytics dashboard, and Smart Routing - v2
Project Category :
Development: Defi (Automated Market Maker), Analytics
Project description :
Since ICONpool is live and working, we would like to improve the project in the upcoming months in terms of UX and features. The goal is to build a fundamental dapp that helps realize the dapp ecosystem on ICON as a basic building block.
It would consist of 4 major components -
ICONPool Frontend - While ICONPool works well on basic features, the dapp needs more work on the UX to intuitive users and liquidity providers. Hence we would like to improve the UX of ICONPool to make it easier to use and manage liquidity pools. It would include a frontend upgrade to iconpool.io. We would also add integrations with more wallets like a ledger and add advanced features such as slippage control on the system.

LP tokens staking and liquidity mining program

Analytics Dashboard - Building an analytics dashboard and a backend monitoring the live/hourly/daily activities of the protocol would help the users and liquidity providers alike. A similar equivalent of this dashboard, for uniswap, can be found at uniswap.info.
For example, some of the data includes trading volumes, price points, liquidity changes, pool fees, transactions across pools, etc.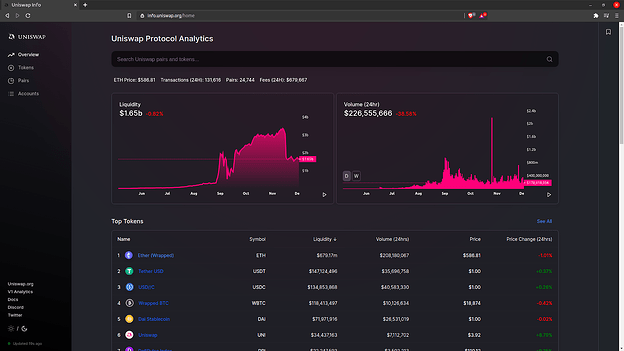 ICONPool Score and smart routing - to build a scalable token economy and infrastructure, we are looking to upgrade the current score to enable pool-pool routing out of the box. Below is an example of smart auto-routing in works in uniswap.

Few other examples include https://sushiswap.fi and https://justswap.io.
Project duration :
The project is going to take four months in total of development following the milestones.
Project Milestones :
We want to implement this project in 4 milestones, measurable for a one month duration each :
Milestone 1 - Phase α: Revamped UX/UI integrated to current iconpool Dapp.
Milestone 2: Phase β: Smart Routing Score with advance features to manage slippage and ledger integration on iconpool.
Milestone 3: Phase δ: Deployment of Liquidity mining program, Integration with orbit bridge.
Milestone 4: Phase γ: Deployment of Analytics and Visualisation Dashboard and testing & going live on mainnet.
The detailed version of the milestones can be found in the document below -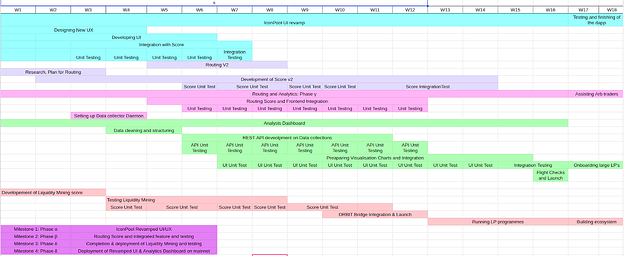 Funding amount requested :
One million ICX delegation for the duration of the project.
1 Blockchain Engineer - 4 * 3000 = 12,000 $
2 Full Stack Developers - 4 * 2 * 3000$ = 24,000 $
1 UI UX designer - 4 * 2000$ = 8000$
1 QA Tester - 4*2000$ = 8000$
ICONPool would take care of product management and would contribute $12,000 in the development costs as well.
Total requested = (52,000 - 12,000) = 40,000$ in duration of 4 month time ($10,000 per month)
Also, we request the ICON foundation to contribute some funds to liquidity pools to grow the protocol.
Official team name :
ICONPool P-rep team
Links -
General: https://iconpool.io
Blog: https://blog.iconpool.io
Contact Information :
Twitter: https://twitter.com/iconpoolio
Telegram: https://t.me/iconpool
Email - blockdevs@protonmail.com
Public Address :
hxc1717a36b5288b92586b93d3c20f247b2bab1a26
---
Thank you for your consideration.