1. Title
[Grant Application] ICON Vote Revamp Proposal

2. Project Category: Development
ICON Vote is currently at the MVP stage to test the product market fit. Since the beta launch, there has been active participation from P-reps and ICX investors
19 P-reps registered so far, 84 ICX investors registered so far, 7 votes proposed so far
As a result, in collaboration with other P-reps such as Parrot 9, we are trying to enhance the user experience of ICON Vote to lower the hurdle of using ICON Vote and enable more active communication between P-reps and ICX investors


3. Project Description:
ICON Vote aims to be a communication platform for P-reps and ICX investors. We believe voting is a key feature of governance. ICON Vote enables P-Reps to interact directly with their supporters through on-chain votes accessible only to their voter base. P-Reps utilizing ICON Vote will offer their supporters a greater voice in governance, funding decisions, and other deliverables.

Examples of new UIs: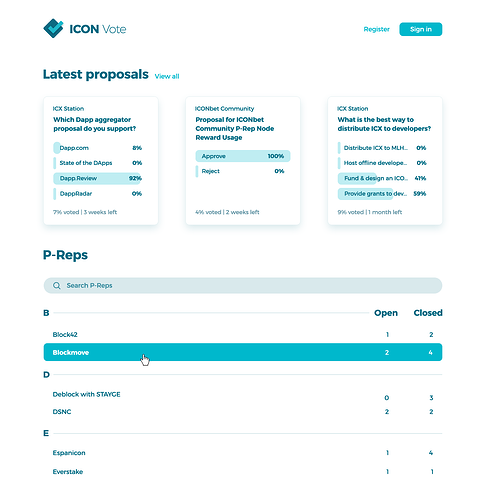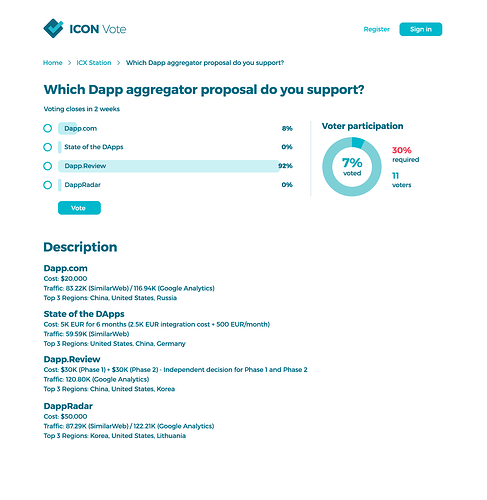 4. Project Duration (Maximum of 6 months)
The project will be developed within 1~2 months.


5. Project Milestones
There are 2 major milestones as below:
Rewrite & Refactor the front-end code to publish all source code as open source.
Implement a new user interface to enhance the user experience of ICON Vote. (+ including responsive layouts)


6. Funding Amount Requested
80 hours * 35 USD = 2,800 USD worth of ICX


7. Official Team Name
Jinhyun Kim (Frontend & JavaScript developer of ICONLOOP)
Developed the latest release of ICONex Chrome Extension
Developing My-ID client application and JavaScript SDK


8. Team Contact Information
You can contact me here:
9. Public Address
hx6a5587754e0c28aa8c14db6b2b4f3f63f3abb89c