I'm specifically referencing the application part of the CPS platform: CPS Console
My main goal for these improvements are to remove barriers of entry for external developers, improve the quality of proposals submitted and improve the overall UX for: Developers, PReps and Community Members.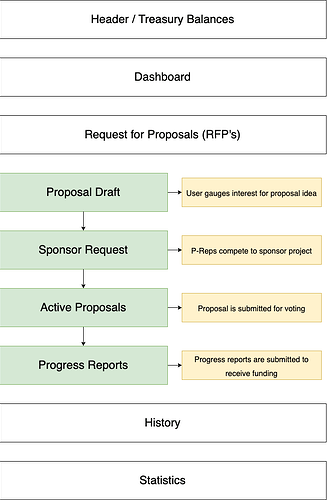 Header
We need a place to show the treasury balances, and which period it is
Dashboard
Displays information to users logged in w/ wallet
Request for Proposals (RFPs)
Off-chain
A place for the community to place requests for what types of projects they think the ICON ecosystem needs.
Proposal Draft
Off-chain
A place for users to submit their proposal drafts/ideas (as opposed to the forum). These drafts would be editable and community members/P-Reps could comment on them, helping shape high-quality proposals.
Would open new window rather than a pop-up
Sponsor Request
Off-chain
Flipped from the current process, proposal sponsorships would be open to all participating P-Reps and P-Reps would request to become a sponsor for projects. This removes the barrier of entry for external teams trying to identify P-Reps to sponsor them, and creates a competitive environment where projects choose the P-Rep that will give them the highest chance of success.
Maybe these Sponsors pay the application fee?
Proposals
On-chain
Once a sponsorship is accepted, proposals are officially submitted and moved to this section during the Application Period, to be voted on during the Voting Period.
Progress Reports
On-chain
Active projects are automatically moved to this section, continuing to update on their proposal's progress and being voted on during the Voting Period to receive funding.
History
A place to review completed CPS projects (and possibly review voting history for P-Reps?)
Being able to see all the previous proposals and their outcomes on one tab/page. Each finished project should have a link to the finished projects + some video/images of the finished project being used provided by the proposing team.
Statistics
More detailed statistics for the CPS, both for proposals and its treasury
number of participating PReps, amount of ICX burned, amount of ICX funded, $ value funded, # of different projects funded, # of different teams funded