Project Name: Balnfolio – track your defi returns on balanced network
Project Category Development
Project Description
We propose to build a web platform to track portfolio of liquidity mining on balanced network. It will help liquidity providers to optimize their yields by having better insight of their investment. It will allow users to keep track of impermanent loss on various pools. The platform can also be used by the liquidity providers to perform research using comparison and forecasts of liquidity pool assets.
Background and Motivation
In order to find how your liquidity mining strategy has performed relative to your initial deposit, it is important to track Defi yields. That's why yields farmers are always interested to find out how much gains they have made compared to HODL. There are many factors effecting the profit of a yield farmer.
Impermanent loss (IL)
Pool rewards
Yield earned
Token prices
Many balanced users are new to defi and liquidity mining. For new liquidity providers, its hard to get a clear understanding of impermanent loss (IL). Balnfolio will allow the liquidity provider to manage risk based on the comparison and improve the strategy to obtain satisfactory returns. All you have to do is enter a wallet address and open your dashboard. The dashboard will have all the information you need for rapid and more informed decision making. Balnfolio will provide all relevant information at one glance.
Our motivation to build balnfolio is to help all balanced users with a smart dashboard to monitor their liquidity pools. We believe that this project will benefit all current balanced users and bring more sidelined ICONISTS to the balanced network.
Deliverables
Balnfolio is a dashboard that will provide the following information.
Total deposits and net yields for all pools.
Portfolio history plot.
Open positions.
Pool specific data.
Impermanent loss.
HODL value vs current value.
Baln ROI, Price ROI and net ROI.
Project Duration 2.5 months
Project Milestones
Phase 1: Backend development (1 month)
In this phase, we will start back-end development to achieve the following:
Obtain all the data for deliverables from the smart contract.
Perform pool-based calculations
Perform overall calculations
Phase 2: Frontend development (1 month)
In this phase, we will start frond-end development to achieve the following:
Design webpage for balnfolio
Display pool specific results
Display overall results
Phase 3: Testing and launch (0.5 month)*
In the final phase, we will deploy and test the balnfolio to fix bugs and improve the design. All deliverables will be completed and balnfolio will be ready to launch.
Funding Request
The breakdown of our funding request is as follows:
Backend Developer ($2400/m for 1.5 months)
Front-end Developer ($1900/m for 1 months)
Hosting and resources ($500)
Total = $6000 ($2400/m)
Team Name Trendpeek
Team Contact Information
Trendpeek.io@gmail.com
Team Background
We are a small team lead by @bearsurvivor. Our team has just started building for icon ecosystem. We have recently launched balnstaker which received overwhelming response form the community.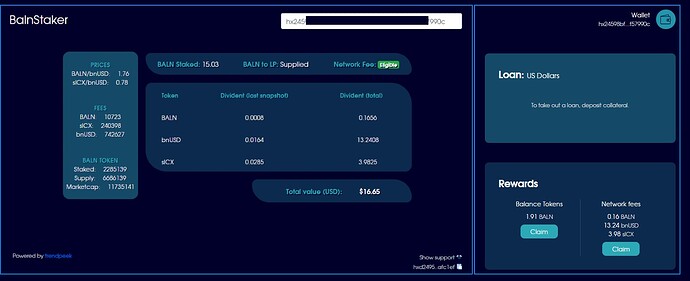 URL: https://balnstaker.herokuapp.com/
GitHub - trendpeek/balnstaker: BALN staking reward analyzer
Sponsor P-Rep not yet