Hello everyone, I've been brainstorming how to spread the word about Balanced. One thing that came to mind was submitting a CPS proposal and purchasing an ad campaign on Brave Ads.
For those who don't know, Brave is a privacy-centric web browser that has built-in support for some cryptos. Because of this, Brave is a popular web browser within the crypto space. As of February 2021, Brave has over 25 million monthly active users.
When opening a new tab in Brave, users are often presented with a splash ad like the one below. Since Brave is a popular browser in the crypto space, many of the ads are related to crypto. The one below is an ad for Nexo, and I've seen ads for a variety of other crypto products.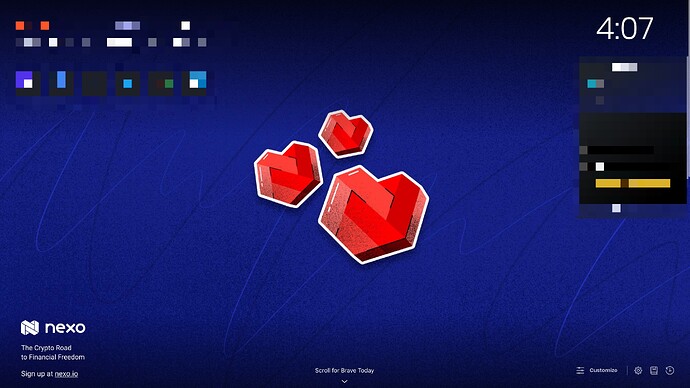 I think this would be a great opportunity to advertise Balanced to a key demographic. Below are a few initial ideas, and I plan on submitting this into the next CPS round. Please share your feedback, and let's get a plan going!
Brave has a few ad tiers. The lowest tier is $1,000-$2,500. I need to do some more research on the tiers, but my guess is that starting off with one of the lower tiers and measuring engagement/results before increasing spending is the best way to go.
I've already reached out to Parrot9 about using some existing Balanced graphics for the ad.
I've reached out to Scott Smiley for some assistance as the application form requires some stuff like a business address, entity name, etc.
I'm thinking about creating a simple website that would allow new users to claim a small amount of ICX (maybe 4-5 ICX) to get them started on the platform. The link would be embedded in the ad somewhere, and be locked down as much as possible (e.g. maybe it only works when the user-agent requesting the link is Brave browser). On the page, maybe there would be a form to submit an ICX address in order to claim the ICX. Obviously there are downsides like one person claiming all the ICX. To combat that, perhaps there could be IP address rate limiting, submitting an email address, and some other things – please give me more ideas! In either case, I think this user acquisition cost would be worth it because it lowers the friction to used Balanced a lot. Even with a great looking ad, I can't imagine a high engagement rate if people have to go to an exchange to buy some ICX first.
Let me know what you think!