Team name: ICONVIET
Requested votes: 2,000,000 ICX
Public address: hx863e16bd18ceaa7d498b4b275e36cd58818b1f25
 
Links to relevant contribution to the ICON ecosystem:
 
The following projects have been built using ICONVIET's proprietary Rapid Application Delivery Framework (RADF) and Minimal UX design approach.
RADF has enabled us to build and deliver complex real-time responsive web app and native iOS / Android mobile app in a very short time frame (4-6 weeks). The ability to share 80% of the code between platforms accelerates our development five-fold despite limited human resource.


---
ICONLOOK (https://iconlook.io) - beta launched on mainnet - work will resume in July

A real-time blockchain intelligence, telemetry and analytics for ICON Ecosystem which indexes and aggregates chain data from multiple sources: LevelDB, Elasticsearch, Public tracker, Citizen node, Chainalytics, ICON price oracle…More sources will be added in the future when they become availble.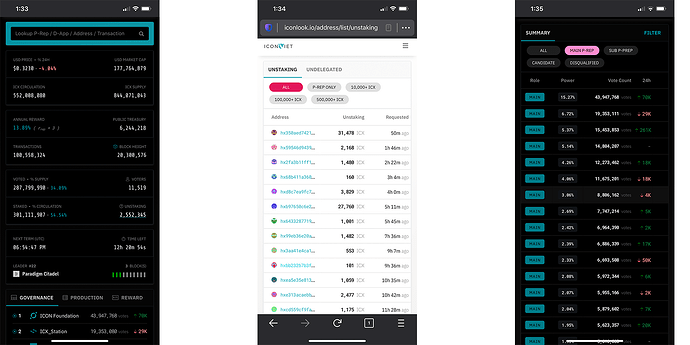 Planned works on this project were put on hold in April in order to allocate resource to the development of MEGALOOP, our first D-App project.
---
MEGALOOP (https://dev.megaloop.io) - QA on testnet - coming to mainnet in 1-2 weeks

An on-chain community raffle system implemented in SCORE with supporting web / mobile / telegram applications built with RADF and Iconlook Messaging Pipeline in 3 weeks time.

Iconists can send any amount of ICX to our SCORE contract using ICONex Wallet and one winner is picked every 43,200 blocks at the exact block height when i-score is distributed. The chance of winning is proportional to the amount sent.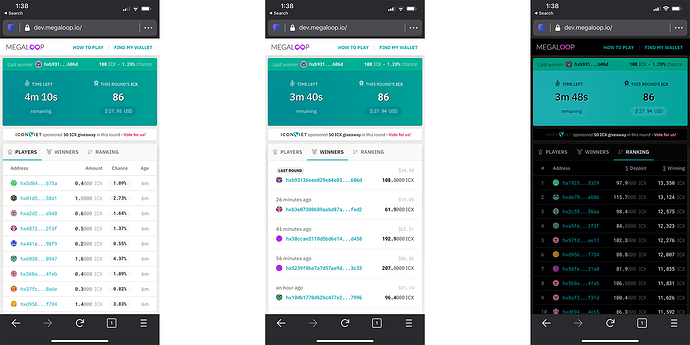 This is our first attempt at full cycle D-App development, marketing, promotion, growth hacking and monetization. Development of this project commenced during April/May and marketing/promotion will start in June. Native iOS and Android apps are coming soon in July/August.
---
SCOREpad (planned launch at scorepad.io) - research and experiment - PoC in Aug/Sep

Zero installation & configuration is required. One can just simply open a web-browser, pick/edit a SCORE sample code then hit a button to deploy, test and explore. It will just work right out of the box. This will significantly lower the barrier-to-entry of SCORE development for beginner because getting up the ground running is simpler than ever.

SCOREpad is a 100% web-based IDE for full-fidelity SCORE development experience accessible from anywhere! powered by Microsoft VS Code Online (still in private preview). Each coding session will be seamlessly integrated with one of our cloud-hosted T-Bears CLI + emulated service instances to make SCORE deployment and testing such a breeze.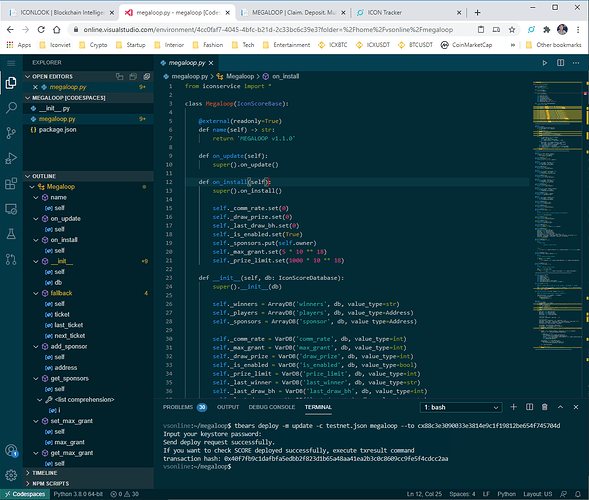 ICONVIET is currently using Microsoft VS Code Online Private Preview for our SCORE development. We hope to to bring this extraordinary experience to all developers out there this year with
scorepad.io
.
---
Specific details for what increased delegation will do for your team:

ICONVIET is a low-key team with full-time DevOps engineers, part-time UX designer & English/Vietnamese translator committed to growing ICON Ecosystem both locally and globally.

We would like to keep our heads down and spend time building rather than roaming social media channels campaigning for additional votes to fund our current operation and future expansion.

Therefore, additional delegation from the Foundation will help us retain dev talents, work on multiple projects, widen our safety-net and dampen the effect of vote dilution.