Staking Lossless Lottery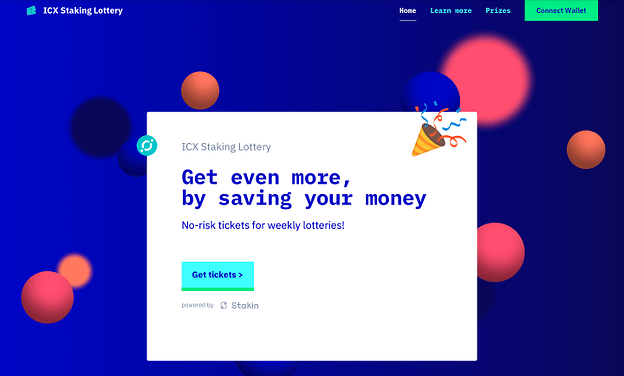 Project category
Development: Staking, Gambling, Gaming
Project description
As most of you already know, Stakin has been working on the first staking lossless lottery since April 2020. More specifically, we received 1 million ICX delegation from Velic Financial for 3 months in order to kickstart this project.
Through this project, we are building a DApp for a lossless staking lottery on ICON. For more information on our staking lottery project, you can refer to these Medium post:
There are numerous gaming DApps on blockchains, but few have managed to successfully integrate with the Decentralized Finance (DeFi) landscape. Staking on ICON offers a very attractive yield, representing a massive opportunity to attract more crypto-enthusiasts to the protocol.
Built on the model of Pool Together, we are building the first staking lottery DApp, and we are building it on ICON. Now, anybody can reinvest its I-score into lottery tickets, and get the chance to win a whole pool of ICX. You don't lose any ICX that you used as a capital if you do not win. Instead, you will be instantly included to the next round of the lottery. Hence, it is called lossless.
With the staking lottery, ICX token holders will benefit from a new option to stake their assets. ICON might gain some additional press coverage, and non-ICX investors may even buy some ICXs in order to take part in the game. Our hope is that this will encourage more community involvement and become a valuable marketing tool for the ICON blockchain.
Project Duration
The goal of this grant application is to finance the latest developments and testing of the ICX risk-free lottery, as well as the marketing activities around the launch scheduled for September. We estimate that we will need 3 more months to complete the latest developments and initiate a successful launch.
Project Milestones
An extensive set of tasks has been completed since this project started in April 2020: Specs, Design, Front-end, and Back-end have all been developed at 90%+. A current version of the DApp (used for testing!) is available on https://dev-lottery.netlify.app/home. The project has already gathered solid interest with 1,515 waitlisted users on https://lottery.stakin.com/. The next 3 months will be focused on finishing the smart-contract, testing it, polishing the back-end and front-end, and launching this revolutionary product.
Month 1 (most likely August 2020): Smart-contract final developments and testing
Month 2: Launch and initial improvements based on feedback
Month 3: Focus on marketing activities and new functionalities (e.g. fiat on-ramp integration), with the goal to have at least 1,000 users by Month 3.
Funding Amount Requested
We estimate that we will need $9,000 to successfully complete this project and reach our goal to onboard at least 1,000 users in the next 3 months:
1 Full-stack developer: $1,000 for the remaining tasks and polishing
1 Smart-contract developer: $2,000 for the remaining tasks
1 Growth marketing intern $1,500 per month x 2 months
Initial reward sponsoring: $1,500 per month x 2 months
Total funding requested: $9,000 (3 months x $3,000)
Official team name
Stakin
Contact information
Email: hello@stakin.com
Telegram: @EdouardLvdl
Twitter: @StakinOfficial
Public address
hx9780bfcd8d33c50f56e37f5b27313433c28eb8d8